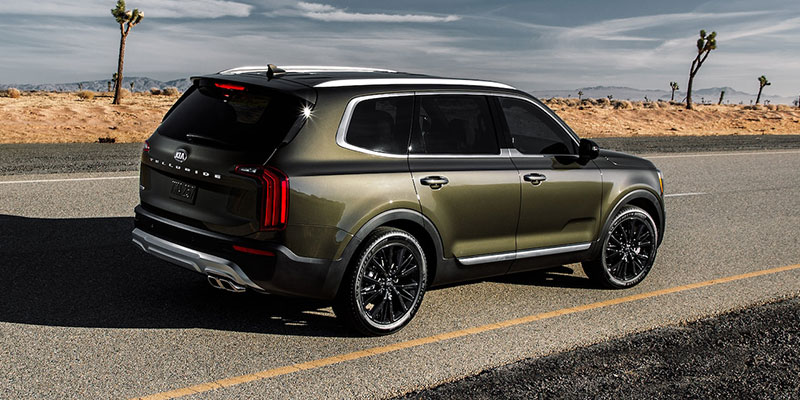 The 2020 Kia Telluride is an exciting new crossover SUV that has already made a name for itself. This award-winning model has garnered interest for its design and technology, and the competition is taking note. To see how the Telluride measures up, we've put it head to head with other vehicles in the segment.
2020 Kia Telluride vs. 2019 Honda Pilot
The Honda Pilot has long been a recognized name in the midsize segment, and while it's earned a lot of respect over the years, the Telluride is set to surpass it by virtue of performance alone. Though the Pilot comes standard with a 3.5L V6 engine, Kia has equipped the Telluride with a larger 3.8L V6 engine. That means the Telluride is more powerful, too - 291 horsepower compared to 280 from the Pilot. In a close race, the Kia pulls ahead.
2020 Kia Telluride vs. 2019 Ford Explorer
The Ford Explorer is another veteran midsize SUV. Ford has made a number of driver assistance features available on the latest model, but they come at a premium. For modern staples that help you avoid collisions or unintentional lane changes, you have to opt for a special package on the Explorer. By contrast, the Telluride comes standard with Forward Collision Avoidance Assist (FCA) and Smart Cruise Control (SCC). These are just a couple of the Kia Drive Wise systems featured on this model. Standard safety is not only worth it - it's emblematic of smart design.
2020 Kia Telluride vs. 2019 Subaru Ascent
The Subaru Ascent and the Kia Telluride are neck-and-neck based on capacity, capability, and available features. Both cars offer advanced safety systems like Kia's Surround View Monitor, and both give the option of 2nd-row captains chairs for owners that can get by with seven seats instead of eight. In the end, the Telluride edges out the Ascent with more horsepower and an available Head-Up Display for more focused driving.
2020 Kia Telluride vs. 2019 Jeep Grand Cherokee
Jeep has made its name by offering exceptional off-road performance, and the latest Grand Cherokee doesn't differ in that regard. The Telluride offers practicality with available all-wheel drive (AWD), and it also features a center-locking differential for when you need to leave the pavement. The Grand Cherokee comes in 11 different trims, but Kia has ensured that each version of the Telluride offers an appropriate value.
---
For more information on the 2020 Kia Telluride, we encourage you to reach out to a member of our staff.
If you're interested in other Kia cars for sale in Raleigh, North Carolina, don't hesitate to contact us through our website or by phone. We look forward to assisting you.